La Liga - What to expect after the International break?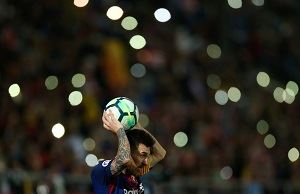 The International break is over, and with it comes the return of domestic action. It is still early days in La Liga, and whilst things are starting to take shape, the table can sometimes lie - Infogol's Analyst delves deeper to give a greater insight into what to expect in the coming weeks.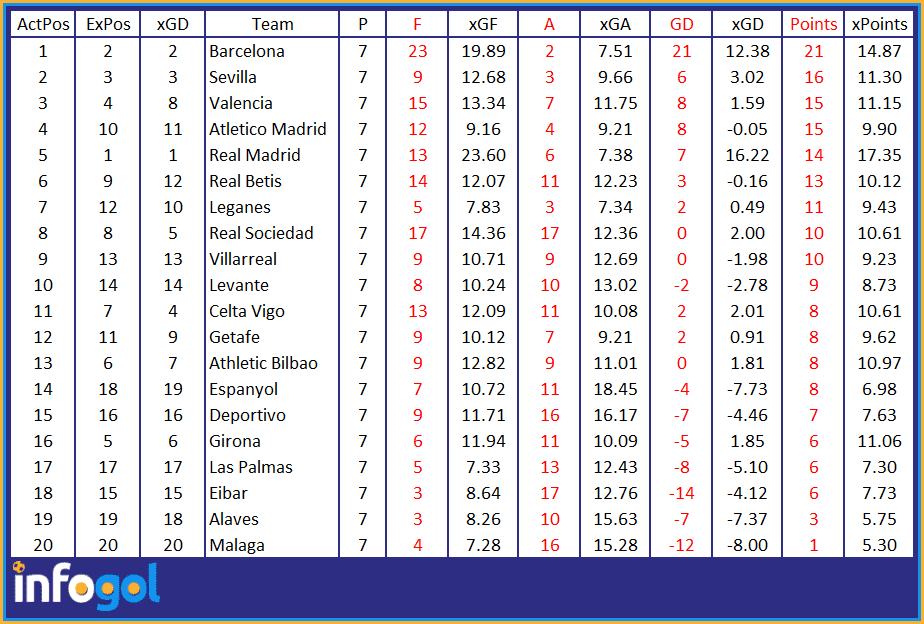 Barcelona are the team everyone is talking about after winning their first seven games, giving them a five-point lead at the top of the table, and a seven-point cushion over their great rivals Real Madrid. While Barcelona have been generally impressive, they have looked vulnerable in a couple of matches – namely against Getafe and Girona – where the score line suggests they won comfortably but in actual fact they were fortunate to get the three points. They have over-performed so far this season in both attack and defence, generating 19.9xG with an actual goal scored total of 23, while conceding 7.5xG but only letting in two goals – just a 2% chance of this happening. All of this equates to Barcelona over-performing their expected goal difference (xGD) by 8.6xG. So, while their process has been good, it hasn't been as good as their results suggest, meaning it wouldn't be a surprise to see them drop points in the coming weeks.
As stated already, Real Madrid are seven points behind Barcelona after seven games, but Zinedine Zidane's team have been extremely unlucky at home this season, drawing with both Valencia and Levante before losing to Real Betis. The aggregate score from those three games was 3-4 to the opponents, with the expected goal aggregate score being 11.9-3.2 in favour of Real Madrid – from the chances they created they should have scored close to 12 goals in those three games, but only managed three. In total this season, Real Madrid have generated 23.6xG and scored just 13, with Infogol calculating just a 1.3% chance of this happening. If they maintain this process, they can be expected to go on a winning run, and sooner or later they will hammer someone, as both the volume and quality of the chances they are creating is so high.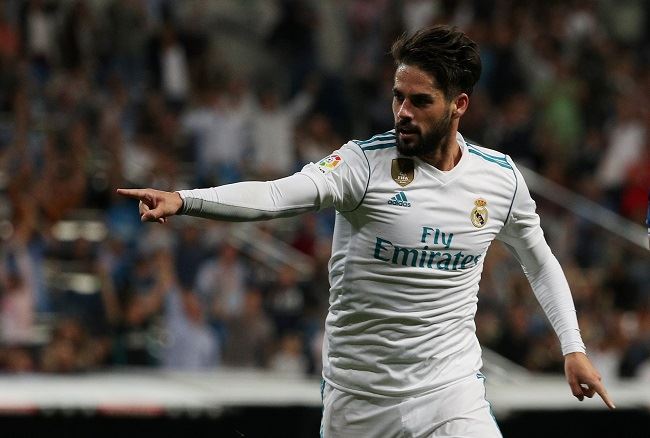 The final member of the 'big three' in Spain is Atletico Madrid who have made a solid start to the season. They remain unbeaten after seven games - though they have drawn three - having played only two home games so far due to the construction of their new stadium. They occupy fourth place in the La Liga table, but currently sit 10th in Infogol's expected table. They have a goal difference of eight, but an expected goal difference (xGD) of -0.05, showing a clear over-performance so far this season. As you would expect, Atletico have one of the best defensive records in the league, conceding just four goals in their seven games, but they are expected to have conceded closer to nine. They have also been struggling to create chances, failing to get over 1xG on three occasions this season, a disappointing stat for a team full of such attacking talent. If they maintain the same process, expect Atletico to drop points, mainly through draws.
Athletic Bilbao and Girona find themselves in 13th and 16th place, but are sixth and fifth respectively in Infogol's expected table, suggesting both teams have been unlucky so far this season. Both teams' misfortune has come in attack; Girona have generated close to 12xG but have hit the net just six times – just a 4.7% chance of this happening. They create big chances on a regular basis, so don't expect them to be in a relegation fight for long. Bilbao are in the same boat, having generated a lot of good chances, so expect their results to turn around soon.
Make sure you check out the Analyst Verdicts for the best bets over the coming weekend.
Recent blog entries