The Ups and Downs of Reading FC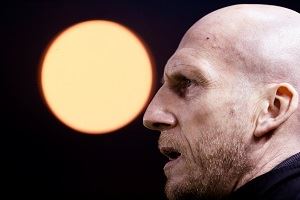 Over the last couple of weeks we've introduced the concept of expected goals and shown how they are powerful tools in examining the underlying process that drives on field events in football.
Football games are decided by the levels of skill of each opponent, but also by the randomness that exists when a probabilistic event, such as an attempt on goal, becomes a real time score or a miss.
We've shown how to assign probabilities to many in game events and then use Monte Carlo simulations to explore the range of outcomes that may have transpired, rather than drawing information simply from the single outcome that developed on the day.
Keepers may allow low probability chances to creep into the net or a side may be dominated for long periods, before their opponent creates a single opportunity that opens the scoring.
But if we want to make projections about future games or tournaments, we would be better served looking at the underlying process for a side, rather than the statistically noisy actual outcomes on the day.

"The only statistic that matters is the final score" and "Over a season, a side gets what it deserves" perhaps sums up the old school approach to football analysis and it is easy to assume that the best side does almost always win over 90 minutes or certainly comes out on top over an entire 38 or 46 game season.
It may seem remarkable that a side could enjoy enough positive variance over a season that its final league position did not fully reflect their underlying quality.
But with 44 teams competing in the Premier League and Championship, season after season, it would be more remarkable if one or two teams didn't over or under perform their core abilities, simply by luck.
In our Championship preview for 2017/18 we attempted to identify sides whose underlying process has been at odds with their final position in the previous season.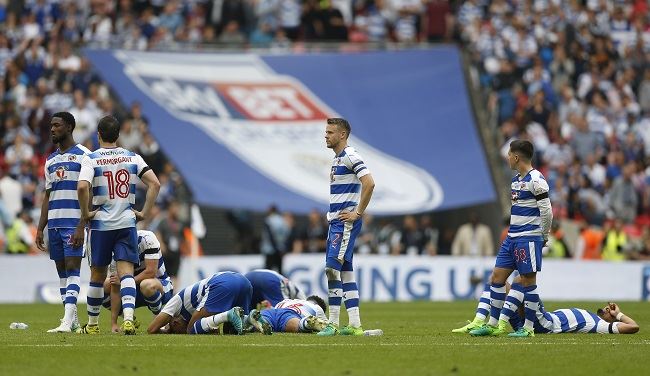 Reading were particularly frustrating from a statistical viewpoint throughout the 2016/17 season, when they finished 3rd. And but for a penalty shootout defeat at Wembley, they would have started 2017/18 as a Premier League club.
However, their underlying expected goals statistics were not that of a promotion prospect and their conventional numbers were sub-par for their lofty final position.
Their actual goal difference was only +4, just 9th best overall in the Championship and they won 19 matches in the league and playoffs by a single goal.
28 times Reading opened the scoring in matches, which also gave them an advantage in dictating how the remainder of the match developed.
These were heady numbers for a side that had barely outscored their opponents when aggregated over 46 games.
Expected goals simulations painted a much bleaker picture than the Royals' 3rd place finish.

In simulations of the expected goals of the chances created and allowed in their games, many of their single goal victories turned into draws or defeats and there were relatively fewer actual narrow defeats that might have gone Reading's way to compensate.
They also scored the first goal in matches at rates that appeared unsustainable based on their underlying shot statistics.
Ali Al-Habsi, Reading's veteran keeper spectacularly over-performed our xG 2 model that compares the number of goals an average keeper might save based on such factors as the power, placement and location of the on target attempts he has to deal with.
In conceding 14 fewer non penalty and non-own goals than the 70 predicted by the model, his performances won him inclusion in the Championship team of the season and Reading's player of the year award.
And rightly so.
But such a performance from a 35 year old keeper is likely to decline through general ageing effects and if it is atypical of his previous recent seasons, a regression towards more usual levels of performance should also be anticipated.
As it was, the point was moot, as Al-Habsi left to join the Saudi professional league in the close season.
Overall, by simulating every game played during 2016/17 Championship thousands of times using expected goals data for each goal attempt faced or created by all 24 teams, the average finishing position for Reading was not 3rd, but 19th out of 24.
A 3rd place finish encouraged some to suggest that Reading could go one better in 2017/18, but a multitude of factors that were possibly fuelled by unsustainable luck and a poor underlying process led Infogol's Analyst to highlight the Royals for a likely bottom half finish.
Reading Bottom half finish @ 6/4 - Infogol Championship season preview
In 2017/18, Reading's process has remained similar to 2016/17.
Their current expected goals figures suggest that Reading's most likely position after 38 games is 17th (they're actually 20th and have just parted company with manager, Jaap Stam).
Both of their keepers have allowed slightly more goals than expected from the shot placement and power of the attempts they've faced.
They've won just two matches by a single goal and taken the lead in 15 matches.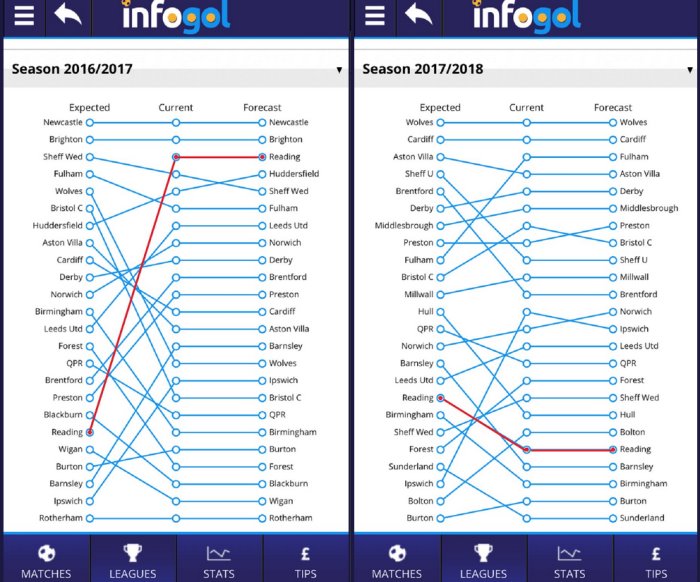 On the slope graph above, Reading's expected position might be considered a reflection of their underlying process and their current position represents their actual achievement relative to the rest of the league.
The latter is a combination of their underlying skill and the transient, but ever present randomness inherent in all natural processes.
Much of the buoyant events that elevated Reading in 2016/17 has become less extreme in 2017/18 and although randomness won't have accounted for all of the previous over-performance, the return to more normal levels should have been expected from the underlying statistics.
Also any tactical quirks used by Stam would perhaps become less effective through familiarity and player churn.
In a similar vein, Burnley has found points harder to come by in the second half of 2017/18 as their glut of opening goals and one goal margin wins have dried up and their unusual defensive setup has received more scrutiny from the media and presumably opponents.
Burnley's opponents have also been much more disciplined at keeping 11 men on the field in the latter part of 2017/18.
The lessons are that all actual events that are unique to one run of results rarely persist, either in their entirety or their distribution into later matches, making near identical future outcomes less likely.
A common theme of the new brand of football analytics, fronted by expected goals is "Trust the process, rather than the outcome" and as Jaap Stam might confirm, favourable luck, combined with a generally poor process often inflates expectations and leads to inevitable disappointment when results begin to track the process more closely.

Recent blog entries