Making the Numbers Speak: The unfair criticism of Dele Alli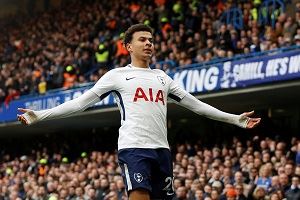 One of the major challenges in bringing numbers based data analysis of football to a wider audience is making the conclusions and insights readily accessible in the same way that traditional, subjectively based analysis has been in the past.

The human brain is much more receptive to narrative driven stories, such as Team A "being in a slump" or Player B "being clinical in front of goal".
Unfortunately, the evidence on which such opinions are based rarely stand up to rigorous number based evidence. Instead they are much more likely to be products of the many cognitive biases that taint our decision making and evaluation.
Once these narratives gain hold they are difficult to overturn and opinions that are often based on mere speculation or single, if memorable events, gain credibility where none exists.
Thus is particularly true for individual players, where streaks either elevate or depress our knee jerk assessment of their abilities.
Offering up a wider, probabilistic assessment of individuals, based around their creative process, rather than just their more visible actual record, is particularly salient at this stage of the season.
Not only are we in the run up to the prestigious "Footballer of the Year" award, but in a World Cup year, squad selections are imminent and such choices should be made based on the widest range of information, rather than just gut instinct.
Delle Alli has been the latest target for the narrative driven doomsayers.
A return of just six Premier League goals, prior to his brace against Chelsea on Sunday, compared to 18 in Spurs' previous campaign, along with his absence from the recent England starting lineup has been sufficient for the media to question his status as one of his country's leading attacking threats.
A combative on-field demeanour and a tendency to collapse under the slightest of contact hardly endears the youngster to opposition fans and that has perhaps only added to the growing bandwagon of criticism.
Superficially, Alli's consistent improvement since debuting for his hometown MK Dons in 2012/13 does seem to have stalled in 2017/18, particularly his scoring that is less than half his 2016/17 tally, albeit with a potential eight remaining matches.
However, as we witnessed with Alli's team mate, Harry Kane, goalless streaks, along with goal gluts are naturally occurring outcomes of any probabilistic process, such as shooting or heading at goal.
And if we wish to take a more measured and data rich view of a player's previous and likely future achievements, we would be advised to also look to their underlying process, rather than a simple snapshot of actual form, that may distort our ability to make informed opinion.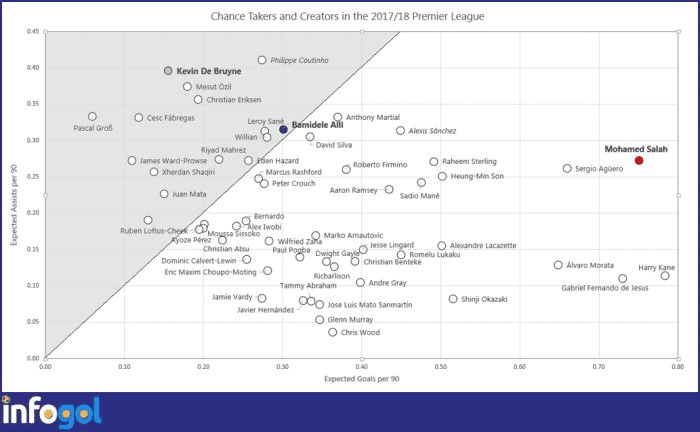 The plot above illustrates the expected goals per 90 minutes and the expected assists per 90 for all the regular players from the 2017/18 Premier League season so far.
We will be familiar with expected goals (xG) as the likelihood of an average player scoring based largely on the attempt type and location.
Expected assists merely gives credit to the player who plays the final pass prior to the attempt on goal. If a player provides a pass that allows a colleague to a shot from inside the box, the assist is credited based on the quality of the chance created, whether it results in an actual goal or not.
The shaded area of the plot denotes when a player's xA/90 exceeds his own xG/90, so it becomes immediately obvious whether a player is mainly a creative influence for his team or he is more likely to be found on the end of any chances created by his side.
We've immediately been able to turn a purely numbers based assessment of every major creative and attacking player in this season's Premier League into a graphic packed full of useful insight and more importantly, devoid of recency or outcome bias.
In addition, if we draw a line through a player to the origin, that line will pass through players with similar ratios of xG/90 to xA/90, so we can quickly group players who are likely to have similar proportions of offensive outputs.
Delle Alli almost exactly straddles the line between the more creative chance maker and the goal poaching chance taker. Perhaps suggesting that even if the amount of chances he has attempted has declined, he has added to his chance creation.
A line through Alli to the origin takes him past such influential players as Eden Hazard, Leroy Sane, Willian, Riyad Mahrez, Juan Mata and well above an age group contemporary, the recently capped Ruben Loftus-Cheek.
A rigorous, evidence based numbers approach has highlighted Alli as one of, if not the best dual purpose, goal scoring and creative threat in this season's Premier League. A rare and valuable commodity in today's game, rather than the character flawed disappointment that he has been portrayed as in the media over recent weeks.
Such analysis is often just a starting point before investigating other aspects of the player, such as team effects and positional changes.
But for those pondering the merits of the two front runners for the Footballer of the Year award, the choice seems clear between the creativity and occasional wonder goal of Kevin De Bruyne and the goal getting instinct, laced with more than a dash of chance creation from Mohamed Salah.

Recent blog entries