Premier League GW23 Review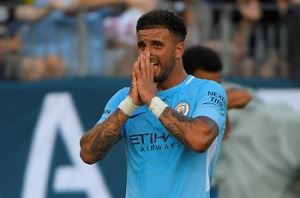 Infogol's Analyst reviews the major talking points of the weekend, focusing on Liverpool's win in an epic encounter with Manchester City and Manchester United's Monday night victory over Stoke City.
Life isn't fair. Stoke City fans may empathise with that saying, with some not happy with the appointment of Paul Lambert last week, and the general mood will only have been made worse by the 3-0 scoreline in Monday night's televised match away at Manchester United.
Don't despair though Potters fans, as it was actually the 'unfairest' result of the week, with Stoke almost matching their opponents in terms of expected goals (1.51xG compared to Man Utd's 1.70xG).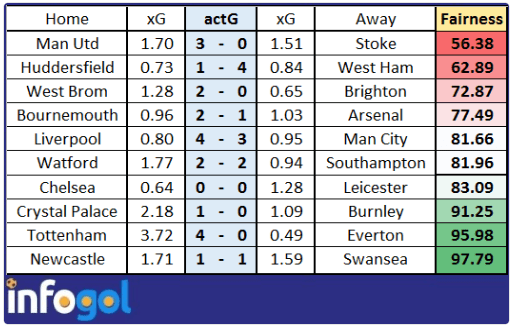 Will Stoke take heart from the performance and bounce back with a more favourable scoreline at home to Huddersfield on Saturday? They look good value at around even money to do so.
Huddersfield themselves were unfortunate to be on the wrong end of a clinical West Ham side at the weekend – losing 4-1 for the second time in the space of a month (Watford on December 16 the other occasion).
Many Terriers fans will see their trip to Stoke as a 'must-not-lose game', but they just aren't creating enough good chances - a total of 1.07xG in their last three matches, all against sides outside of the top six. With just two goals on the road this season, they look up against it once more.
The result that jumps out form the weekend, though, in the middle range of fairness ratings (generally around 80%), is Liverpool's thrilling 4-3 win over runaway leaders Manchester City.
The xG figures of 0.80 – 0.95 made me look twice (and double check the figures three times), but the truth of the matter is that both sides were ruthless when glimpsing an opportunity. And, as the image below shows, City were helped by some poor Liverpool goalkeeping once more.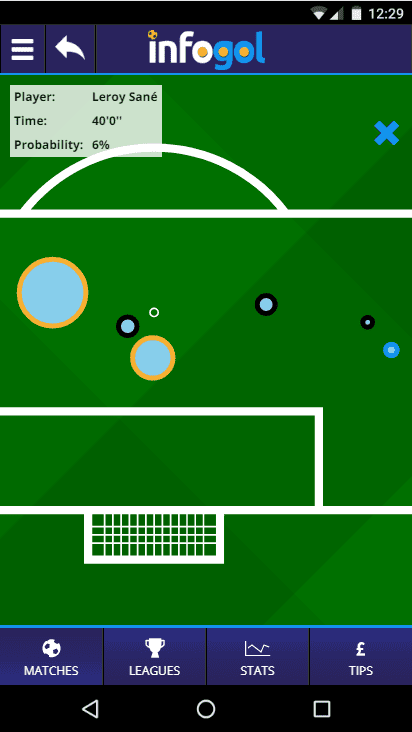 It made a refreshing change to see two sides attacking at will in an end-to-end match, and it's a good example of how potent each side is going forward – this was not a game of golden opportunities, but one of golden goalscoring. No wonder such players are much sought after in this transfer window.
Team to Back GW24 – Stoke City
Stoke City 'entertain' a toothless Huddersfield on Saturday and are expected to end a five-match winless streak. It might not have been pretty at times, but Stoke have won four Premier League matches at the bet365 Stadium – more than any other team in the bottom six – and they can gain a valuable three points against their relegation rivals. Back them to win at Evens.
Recent blog entries