PFA Player of the Year: Kevin De Bruyne vs Mohamed Salah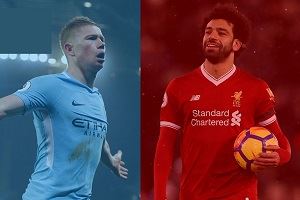 The gradual acceptance of advanced statistics into the mainstream football media may signal a coming together of the two camps, although at the extremes entrenched positions do remain.

On the one hand some football traditionalists advocate the final score line as the ultimate arbiter, while the new breed of football analysts rely on dissecting the probabilistic process, partly removed from actual events on the day.
Realistically, the two disciplines produce a much more rounded description of the beautiful game when combined to give an engaging narrative that that sometimes hints at a degree of randomness that perhaps rewarded those less worthy with a positive result on the day.
The recent Manchester derby, for example, where City dominance in chance creation ultimately fell foul to United's "clinical" finishes.
The latter won on the day, but the former is better equipped to retain the title they will win very soon.
With the awards season nearly upon us, the PFA Player of the Year Award is an ideal testing ground for a fusion of the old and the new.
Despite its defensive beginnings, the first recipient was Norman Hunter in 1973-74, followed by Colin Todd and then Pat Jennings, attacking players have dominated the list of winners subsequently.
The last out and out defender to win was John Terry in 2004-05 and this year's award is largely a two horse race between Liverpool's Mo Salah and Manchester City's Kevin De Bruyne.
Awards rightfully are the rewards for outstanding performance, regardless of the underlying merits of the players or teams involved.
Often the most visible high performers will have a strong underlying process, but they've also benefitted from randomness to elevate their outcomes to even greater heights.
The so called "Curse of Sports Illustrated" is merely an example of featured outstanding performers falling from their peak output in subsequent months or years, as positive variance becomes less extreme, while their true talent levels remain at similar levels.
De Bruyne is principally a creative talent in Manchester City's title winning team, whereas Salah features more as a taker, rather than maker of chances.
This perception is reinforced if we refer to the plot of the expected assists against expected goals per 90 for both players from last week's post.
De Bruyne has the highest expected assists per 90 of all current players, while Salah is just pipped by Harry Kane as the league's most dangerous goal poacher, but comfortably exceeds the creativity of Spurs' target man.
Goal involvement is an inclusive statistic that merely combines a players expected goals and expected assist to give a figure to a player's attacking importance to his side.
For example, Salah's goal involvement per 90 just exceeds 1 expected goal and assists per game, whereas De Bruyne's league best 0.4 expected assists per 90 is only enhanced by 0.15 xG/90.
Although we are considering individual awards, inevitably team factors do influence the overall numbers, such as the abilities of your team mates to create or receive chances.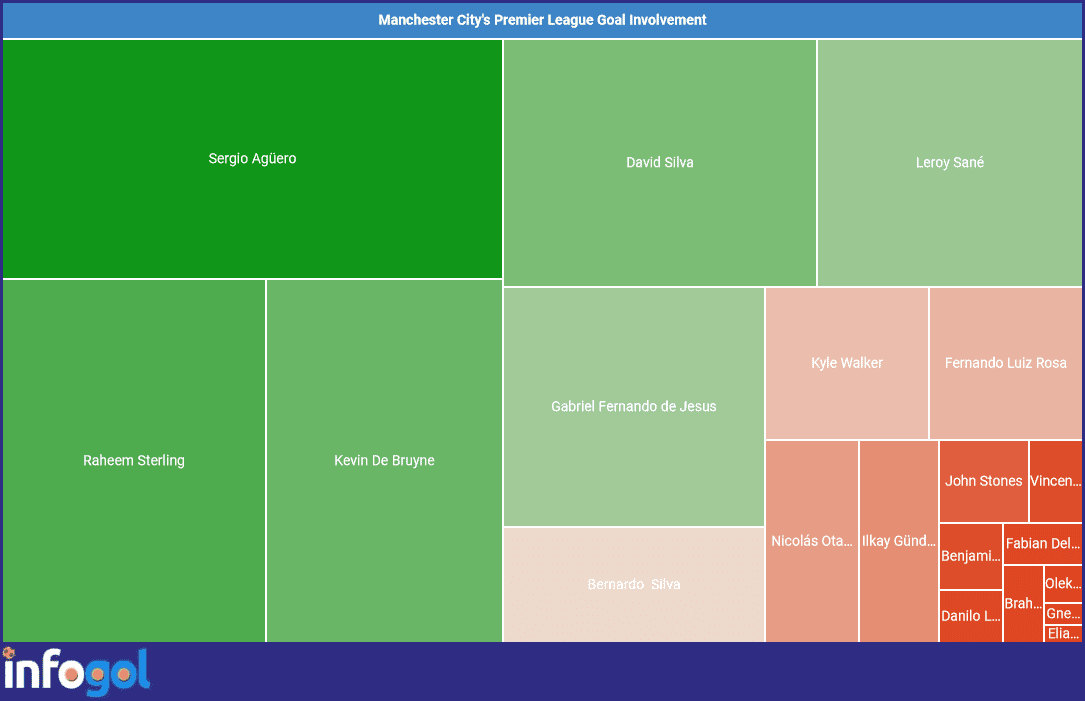 The plot above visualises the proportion of expected goals and assists that a player has taken part in during Manchester City's Premier League campaign.
Many would feel that regular participation is an important factor in selecting a player of the season, so these contributions are not corrected for minutes played.
De Bruyne, unsurprisingly is an influential attacking influence for the champions elect, but at very similar levels as four team mates and slightly below Sergio Aguero, who does not neglect his creative responsibilities.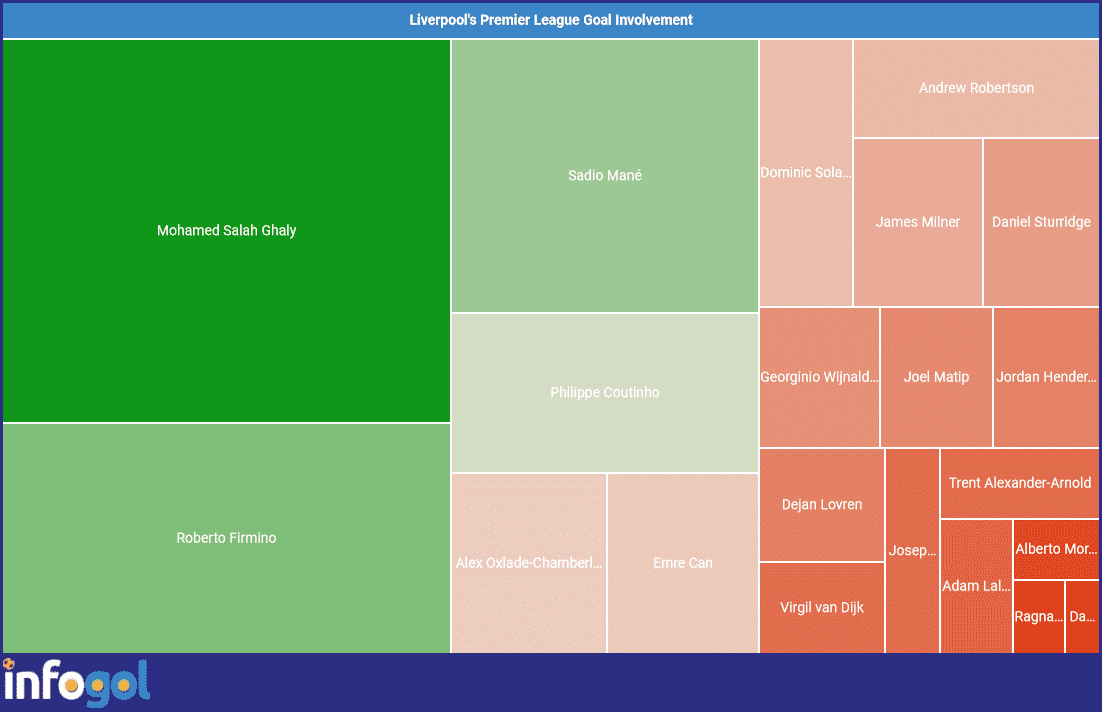 By contrast, Mo Salah dominates Liverpool's goal involvement plot, showing a resilience to keep mostly match fit, while going head to head with opposing defences to both create and take end product for his side.
So the actual records of both players, 22 goals and assists for De Bruyne and 38 for Salah is confirmed by the underlying expected statistics and the edge appears to lie with the Liverpool player.
Award winners should astonish and captivate an audience with their ability to score memorable goals or convert important goals that turn matches, even if their ability to wholly replicate these feats in the future is less than certain.
Once again, relatively basic advanced metrics can easily quantify these moments, rather than relying upon human perceptions that are often flawed by various biases.
Spectacular goals often originate from unpromising shot locations. Once an attempt is made from outside the penalty box, the historical likelihood of a score rapidly falls below 10%.
Occasionally, goals from such positions belie their humble beginnings by flying with dip, power and swerve into the top corner of the net.
xG models adequately describe the former, whereas xG 2 models can add information about the potency of an on target attempt by including post shot parameters, regardless of the likely repeatability.
A highlights reel for a prospective transfer target is a very poor way to evaluate a player's underlying talent, but it is a more than fair submission for an annual award and both players have turned relatively innocuous pitch locations into exceptional goals.
De Bruyne's winning goal against Chelsea was not only important in the context of defeating a then title rival, but it also turned a mere 9% expected goals chance into a near 70% chance by virtue of its shot placement, power, swerve and trajectory.
Similarly, Salah's goal against Merseyside rivals Everton transformed a 6% xG chance into a 72% xG 2 on target goal.
Overall, Salah's likelihood of scoring based on the shot placement of his attempts on target equates to his expected goal purely based on the location from where he took his shots in the season so far.
He hasn't enhanced his likelihood of scoring by finding the top corner of the net more often than expected, unlike De Bruyne who has nearly doubled his location based expected goals by regularly finding the keeper's far post, often with swerve.
Finally, we'd like our award winners to frequently score important goals, such as Salah's opening strike against Manchester City in the Champions League 1st leg and once again we can measure how much each players goals or assisted goal have advanced their side's likelihood of winning a game.
The fifth goal in a 6-0 win is not a valuable as a last gasp opening goal in a match and we can use a variety of models to see how the chance of three points for a win or one for a draw alters immediately after a goal.
De Bruyne's opening goal at Chelsea came after 67 minutes of goalless action.
Prior to his strike the probability of City winning was around 0.32 and the draw was 0.47 and their average expected points was (3*0.32) + (1 * 0.47) or 1.43 league points.
After the goal it rose to an expectation of 2.57 points.
On average, De Bruyne's goals and those he assisted improved City's points expectation by just under half a point per goal and by 10.1 points in total.
Salah's average was slightly lower, 0.39, he scored more goals when the contest was effectively over, but his total was higher at 14.5.
We've measured the attacking output of both candidates and the vote appears to be heavily influenced such metrics.
We've also used conclusions that are often the antithesis of modern analytics, where we are trying to understand where the random noise is likely to be in a player's seasonal record and project just his repeatable skill into future seasons.
But for this exercise we are celebrating achievement, with all the associated variance.
Both players have been integral to their side's attacking process, both have scored spectacular and often vital goals and the verdict appears to be as close as the betting of 1.9 Salah and 2.0 De Bruyne implies.

Recent blog entries