How Pep's City Passed the Premier League into Submission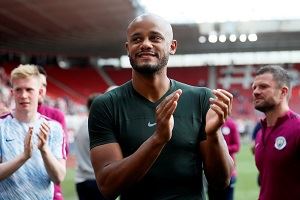 Two years after Leicester City won the Premier League with a strategy of low possession and lightning fast breaks, Manchester City has returned possession based, high passing completion football to the forefront. Mark Taylor explains how they did it, and if possible, how to stop them

Multiple pass related records, both individual and team wide, having fallen as Pep Guardiola's side has relentlessly sweep virtually everyone before them in regaining the title they last won in 2013/14.
Few teams have been able to compete with City in the Premier League, with the notable exception of Liverpool, who became the first side to beat them domestically in mid-January and then followed up by winning twice more in both legs of the Champions League quarter final.
Twenty years ago, Manchester City were "enjoying" a joint relegation party with Stoke City at the Britannia Stadium, as both sides sank into the third tier of English football.
So two Premier League firsts, two seconds, a third and a fourth finish since 2011/12 represents untold riches compared to that sunny Sunday afternoon in May 1998.
However, the financial backing City has received has redefined their ambition and title winning seasons are now regarded as the bare minimum, with European trophies now the ultimate aim.
In tempting Guardiola into the Premier League, City have reaped the improvement that has transformed City from the occasional first among equals to the undisputed titans of 38 game Premier League football.
Their upgrade has been spectacular in Pep's second season, particularly given the consistently high level City had performed at previously, as the upside for already excellent sides is often limited.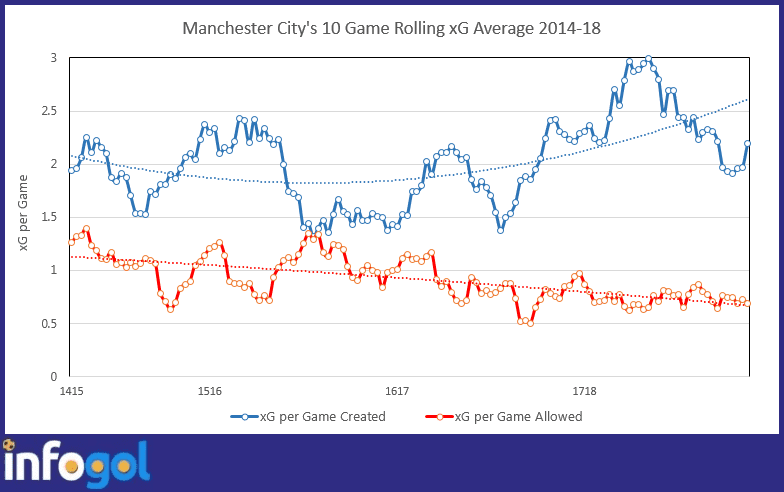 Here's City's rolling expected goals numbers since 2014/15.
Initially, the trend line remains steadfastly encouraging, albeit relatively static and with the occasional dip in their short term attacking and defensive process, but the two trend lines gradually diverge in Pep's first season, before showing unprecedented separation throughout 2017/18.
The furtherance in expected goals created might be anticipated given the massive outlay on attacking talent, but Guardiola's possession based philosophy has also assisted the defensive side of the ball, along with the purchase of a less error prone shot stopper in Ederson to replace Bravo.
If an opponent does not have the ball for long periods of a game, it is very difficult to score,
It's relatively easy to identify why a side has been successful, but a side wishing to emulate the quick fire attacks of Leicester or the overwhelming passing pressure exerted by Manchester City have to first assemble the correct building blocks.
Leicester needed the pace of Vardy, the craft of Mahrez and the industry of Kante and the absence of the latter precluded a potential repeat by the Foxes in the following season.
So who has been integral to City's pass orientated game and what different roles have they played.
In previous blogs we've introduced non-shot expected goals models that quantifies the value of a possession in any area of the field, based around the likelihood that a goal will result from similar previous such possessions.
This framework is particularly useful when adding context to raw passing totals and completion rates.
Instead of simply presenting the numbers and ranking sides or players by passing volume, we can see how their individual passing achievements are improving the team's field position, their non-shot expected goals and hence their chances of getting a favourable result.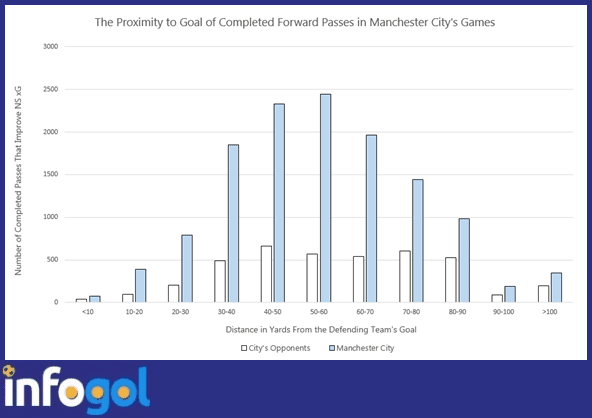 Here's a plot of every pass completed by Manchester City that improved their field position as measured by their non-shot expected goals values at the start position of the pass and at the end of the pass.
I've also include the same values for City's opponents.
The majority of positive passes occur around midfield between 50 and 60 yards from goal, but it is testament to City's dominance that they are completing around three times as many valuable passes in the dangerous areas of the field that are 40 yards or closer to their opponent's goal line compared to their opponents.
The tactical wrinkles of Guardiola, the talented passers and receivers, who are adept at creating space in dangerous areas has produced a passing side without precedence in the Premier League era.
We can construct models that estimate the likelihood that an average player would complete any type of pass and City, both as a team and universally as individuals, consistently outperform such baseline completion rates.
Manchester City complete 8% more passes than an average side would expected to achieve given the difficulty of the passes that are being attempted.
Their nearest rivals are North London teams, Arsenal and Tottenham, who are both 4.5% above par. Whilst Newcastle and Stoke have fallen the furthest below the expectations of a model based around an average side in 2017/18, each completing around 5% fewer passes than expected.
Such dominance has not only created copious amounts of chances for City, but as shown by the output of their opponents, it has left little opportunity for a response.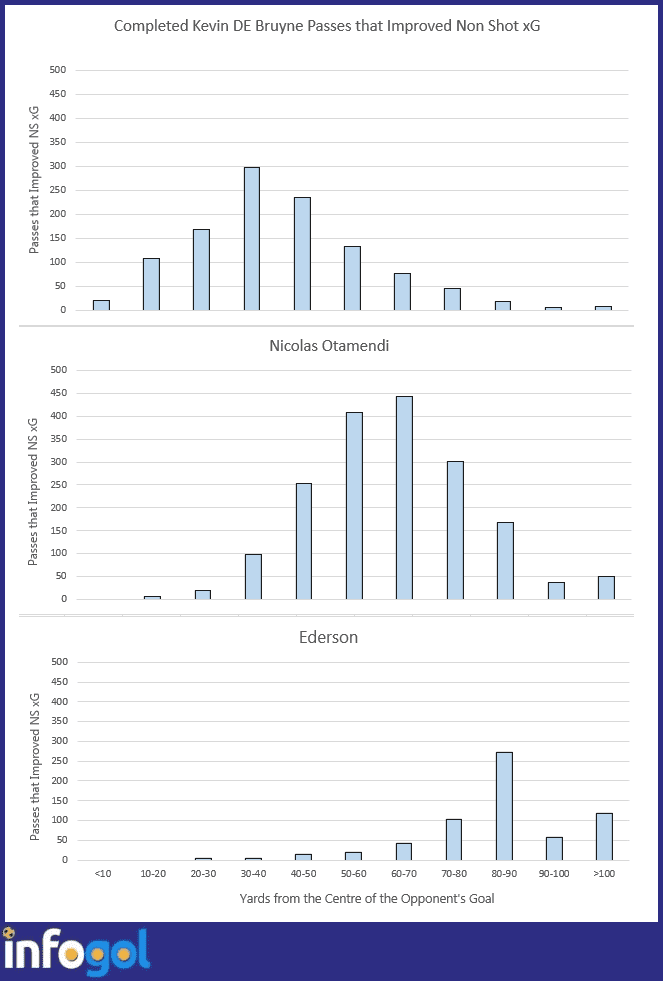 Here's the individual contributions of three City players whose been singled out as being excellent with the ball at their feet.
Ederson has been the initial architect of many City moves, while Otamendi has broken individual passing volume records and De Bruyne vied for the player of the season awards, fuelled mainly by his creative assists.
By charting the purpose, rather than simply the volume of their passes, we can show how the backbone of City's valuable passing network relies heavily on the contributions of these three players.
Hitherto pieces of mere trivia, such as Otamendi's passing feats, can now by objectively quantified, particularly if the change in non-shot expected goals values is included from the start of the pass to the point at which it is completed.
Rather than existing in isolation, the individual responsibilities of each player can be tracked, quantified and much more of Guardiola's tactical intentions become clearer.
If the initial plot demonstrating City's dominance may be depressing for the majority of Premier League opponents, we can perhaps use other such plots to a single aspect of how a side such as Liverpool managed to overturn them.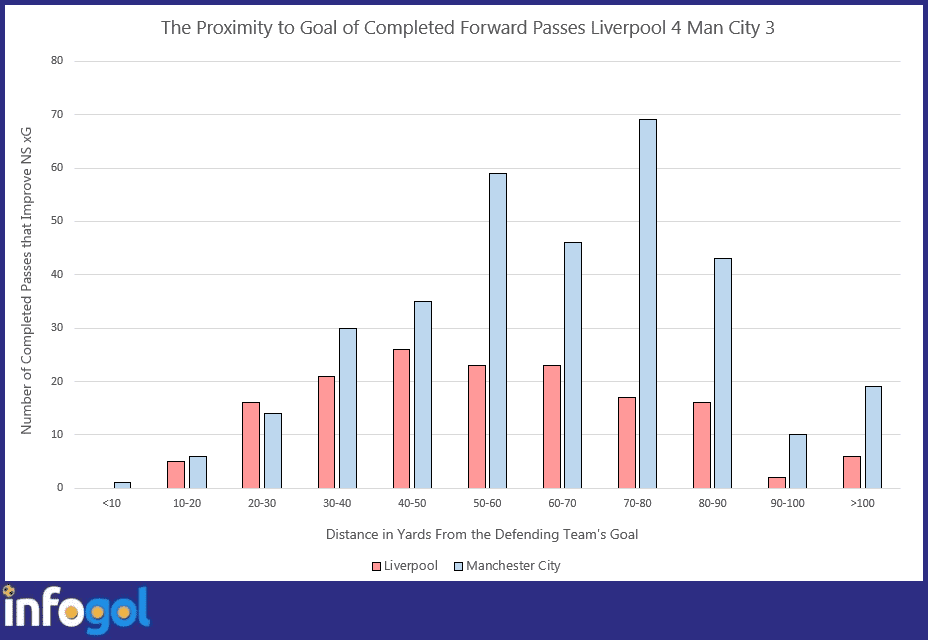 In the January Premier league meeting, won 4-3 by the Reds, Liverpool pushed City's most prolific area of valuable, completed passes back by around 20 yards.
Typically across the season, City completed the largest proportion of forward passes between 50-60 yards from their opponent's goal, but at Anfield they completed more passes 70-80 yards from goal than in any other area of the field.
Just as importantly, Liverpool almost matched the champions in the quantity and quality of passes made within 40 yards of the opponent's goal. This where City has usually enjoyed a massive performance differential advantage during 2017/18.
Sadly, this isn't a blueprint for the Premier League as a whole to compete with the champions in 2018/19.
Liverpool has a squad of players that few rivals can match and as Leicester found, nearly to their cost in 2016/17 and City realised at the beginning of Pep's tenure, before you can implement a plan, you need to assemble a squad capable of carrying it out and advanced analytics might just play a small part in identifying the required components.

Recent blog entries