England's road to Russia: How did they really do?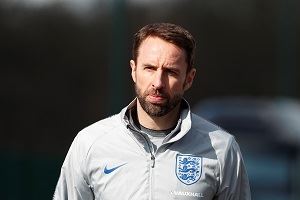 England's qualifying campaign was pretty eventful thanks to a change of manager, a change of system and some entertaining games against old rivals Scotland. Infogol's Analyst takes a closer look at what England did well, what they need to work on, and what can be expected ahead of the World Cup.

A typical Allardyce start
Sam Allardyce was appointed England manager ahead of the qualifying campaign, and the first game in Slovakia was what could be classed as a typical Allardyce performance; strong in defence and conceding few chances, while doing enough to win the game 1-0 (xG: SLK 0.03 – 0.99 ENG).
Off the field events eventually cost Allardyce his job, with the FA turning to ex-England player and then-Under 21's manager, Gareth Southgate.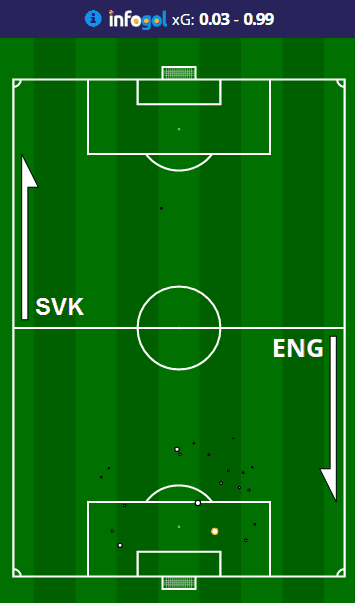 An Allardyce shot map: England's first game vs Slovakia
Offensive improvements under Southgate
Though England may not have come up against any very strong teams in qualifying, their attacking process was still fairly impressive, creating plenty of chances in almost every game.
A 2-0 win over Malta in Southgate's first game could have been more emphatic according to the chances created (xG: ENG 3.42 – 0.04 MAL). This was followed by the only game England deserved to lose, with a 0-0 draw against Slovenia their worst performance of the group stage (xG: SLO 1.45 – 0.53 ENG).
Comfortable wins over Scotland and Lithuania at Wembley followed, before Southgate's team rescued a point away at Scotland in a game where they deserved all three (xG: SCO 0.42 – 1.55 ENG).
The Three Lions won their last four games, though not all were impressed in the fashion that they did so. Beating Malta, Slovakia, Slovenia and Lithuania by an aggregate score of 8-1 may not seem very impressive, but their actual performances in the games were, as they limited opponents to an average of just 0.41 xGA per game.

England's final qualifying group table
Kane the key?
Harry Kane was England's leading scorer in qualifying, hitting the net five times. He is definitely the player that gets himself in scoring positions the best and most often, having racked up 4.36 xGF, two more than anyone else.
Marcus Rashford also impressed in qualifying, and while he may not have scored a lot of goals, he was contributing an average of 0.83 xG per 90 to the team.
What to take from the qualifying campaign?
With a new three at the back system implemented, England have looked much more solid, albeit against lesser opposition. However, they have also done it against top opponents in recent friendlies, keeping clean sheets against Germany, Brazil and the Netherlands.
While England may not have been overly exciting to watch throughout their campaign, they were still creating good chances in matches, averaging 2 xG per game.
Attacking players aren't lacking heading into this tournament, and the same could be said for defenders, with the biggest question marks being over a lack of quality options in midfield.
The goalkeeping situation was consistent in qualifying, with Joe Hart playing every game, but that appears to have changed, with Southgate seemingly unsure on who should be the number one judging by recent friendlies. Based on league form, it shouldn't be Hart.

Recent blog entries