Wilshere deservedly misses out, Shelvey unlucky: England 2018 World Cup Squad Assessment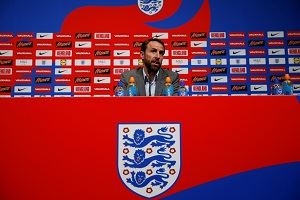 After Gareth Southgate announced his 23-man World Cup squad, there were a few notable surprises in both inclusions and omissions. Infogol's Analyst uses expected goals (xG) data from this season's Premier League to assess if Southgate made the right calls with his selections.

Goalkeepers
Gareth Southgate surprised everyone by not selecting Joe Hart in his 23-man squad, defying every pundit that suggested he should be on the plane solely based on his 'experience'.
The bottom line is that this season, and last, he hasn't been good enough, and the underlying numbers reflect that Southgate has got his choice of keepers spot on.
Hart has under-performed according to the number of goals he should have conceded based on the on-target attempts he has faced, as can be seen in the graphic below.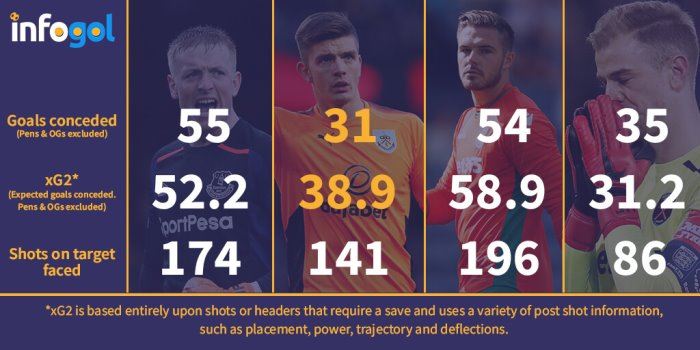 This, coupled with the fact he was kept out of the West Ham team by a Spanish keeper that doesn't even get a mention for their squad (Adrian), shows he just hasn't been good enough.
The other three keepers deserve their call ups, Jordan Pickford had the worst season of the three according to the xG2 model, with Jack Butland and Nick Pope both over-performing in terms of the number of goals they conceded.
It is suggested that, based on shot-stopping alone, that Nick Pope has been England's best keeper this season, but whether Southgate will trust him enough to make him number one remains to be seen.
Defenders
Gary Cahill, Phil Jones, Harry Maguire and John Stones are the four centre-backs selected by Southgate, with not much argument about the latter three.
Cahill's inclusion was an interesting one, as he has played very little this season for a Chelsea team that has been much more vulnerable than last term.
When he was on the field for Chelsea, he contributed to around 19% of Chelsea's xG denied, with players like Chris Smalling (22%) and James Tarkowski (27%) contributing much more in terms of defensive output (blocks, interceptions, tackles).
With Cahill not likely to be one trusted with the ball at his feet, unlike Stones and Maguire, and Jones contributing more defensively (23%), he could have been one to be left out in place of someone else.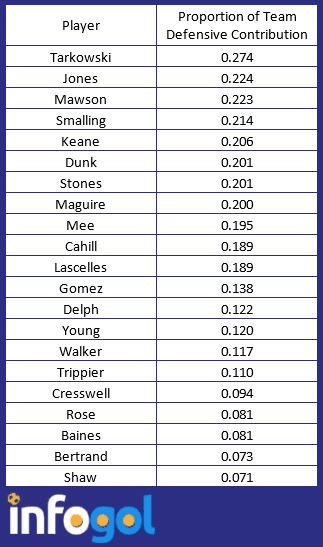 A lot of full-backs/wing-backs were selected by Southgate, with; Fabian Delph (who could double up as a midfielder), Danny Rose, Kieran Trippier, Ashley Young, Kyle Walker (who many people think will play at centre-back) and surprisingly Trent Alexander-Arnold.
Not many people will argue with the first five, but the inclusion of Alexander-Arnold was a surprise for many, and it came out of nowhere.
It wasn't a shock to Infogol though, as with Walker expecting to play at centre-back, Southgate needed another right wing-back, and Alexander-Arnold has the joint highest expected goal involvement of any wing-back in contention.
Tied with Kieran Trippier, Alexander-Arnold contributes an average of 0.19 xG per game when he plays. He will provide good back up for Trippier, who is expected to be first choice.
Midfield
Southgate once again defied the pundits in omitting Jack Wilshere, with many ex-pros continuously singing the midfielder's praises and vouching for him to be in the 23-man squad.
Injury record aside, Wilshere hasn't been good enough this year to warrant a place at the World Cup. In comparison with players who would most likely play in a similar role to Wilshere (attacking-midfield), it's easy to see why he hasn't been included.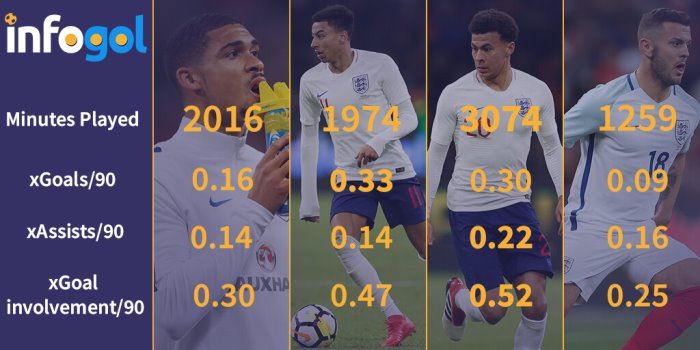 Dele Alli, Jesse Lingard and Ruben Loftus-Cheek have all contributed more in attack than Wilshere this season, despite him playing in an advanced role at Arsenal.
In terms of taking Wilshere as a central-midfielder, well that would be an even worst idea. Not only does he create little compared to his competition, out of all the England midfielders that could have been selected, he has the lowest defensive contribution; he is accountable for just 3% of Arsenal's expected goals denied this season.
Overall, Wilshere was right to be left out.
The central-midfielders that made the squad were; Jordan Henderson and Eric Dier, with Fabian Delph maybe providing cover as a third centre-midfielder.
Plenty were calling for Jonjo Shelvey, and he was perhaps unlucky to miss out having finished the season strongly with Newcastle. He could have provided England with something they are missing, as according to the non-shot xG model, his passes increase the team's non-shot xG by the most of any English midfielder.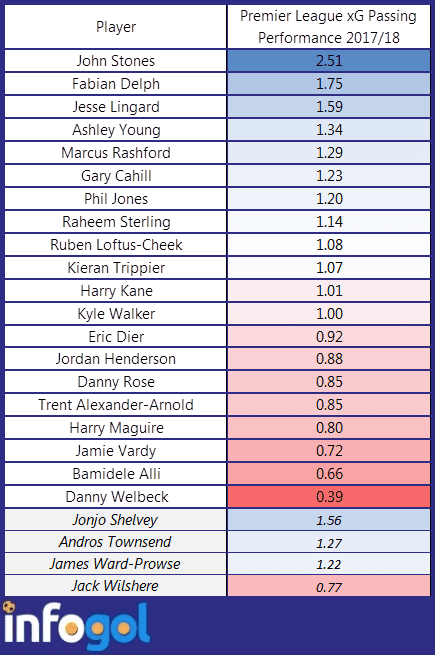 The non-shot model takes the non-shot xG gained by completed passes, along with the amount lost by incomplete ones and accounts for the side they are playing for and the typical expectation for their position.
As can be seen, John Stones is arguably England's greatest passing asset, so too is Fabian Delph, with Jesse Lingard the best of the rest. Danny Welbeck offers least in terms of non-penalty xG, while Jack Wilshere's is far from impressive for someone everyone rates very highly.
On this metric, it is easy to see why Jonjo Shelvey should have been in the squad, being the best passer of any central midfielder in the 23-man squad.
Forwards
Harry Kane, Jamie Vardy, Marcus Rashford, Danny Welbeck and Raheem Sterling are the forwards selected by Gareth Southgate. Kane and Vardy were shoe-ins for the squad after good goal-scoring seasons, as was Raheem Sterling, who has improved vastly under Pep Guardiola at Manchester City.
Marcus Rashford's lack of game time may have affected his chances, but his performances in qualifying were perhaps what secured his place in the squad, averaging 0.83 xGI per 90.
Danny Welbeck's inclusion was the most eye-catching for sure, as, although he has a good scoring record for England (15 goals in 37 appearances), he has barely played for Arsenal, and when he has, he hasn't stood out.
He managed just 37 minutes in qualifying and could have been a player sacrificed for another central midfielder with the number of attacking options the Three Lions have at their disposal.
Conclusion
Overall, there are very few negatives about the squad selected by Gareth Southgate. The omissions of both Wilshere and Hart are supported by expected goals (xG), as neither have performed particularly well this season. The only player perhaps unlucky to miss out was Jonjo Shelvey, with the Newcastle man able to provide something different to the squad. Overall, a positive start to the World Cup campaign.
Recent blog entries