Brazil Serie A GW5 Review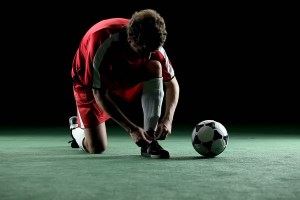 After the midweek action, Infogol's Analyst reviews game week five in Brazil's Serie A, looking at performances and not just results, to establish who deserved their result and who may have been fortunate.
Actual vs Expected Goal Totals for GW5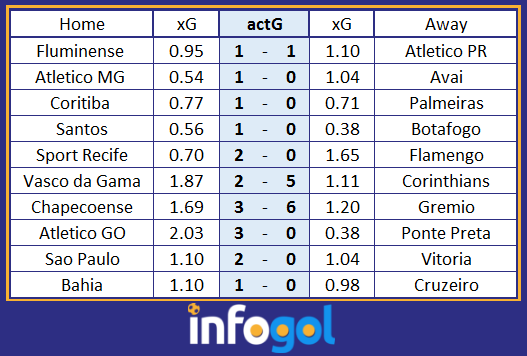 Atletico Goianiense picked up their first win of the season in some style, beating Ponte Preta 3-0 in what was a dominant display. They nearly double their total xG for the season in this match, generating 2.03 against a hapless Ponte Preta defence.
Fluminense and Atletico Paranaense were the only teams to share the spoils in GW5, drawing 1-1 in Rio. It was a fair result as both teams created chances, but leaves Paranaense winless after five matches.
Coritiba, Santos, Sao Paulo and Bahia all recorded home wins in GW5, beating Palmeiras, Botafogo, Vitoria and Cruzeiro respectively. All of these teams won without conceding, but all were slightly fortunate to get the three points in what were very even matches according to xG.
Atletico Mineiro picked up their first win of the season at home to Avai, though they once gain struggled to create many chances in a 1-0 victory. They created just 0.54 xG to Avai's 1.04, with Infogol calculating there would be an 18% chance of Mineiro getting the three points according to the quality of chances both teams created.
Atletico Mineiro not at their best but get first win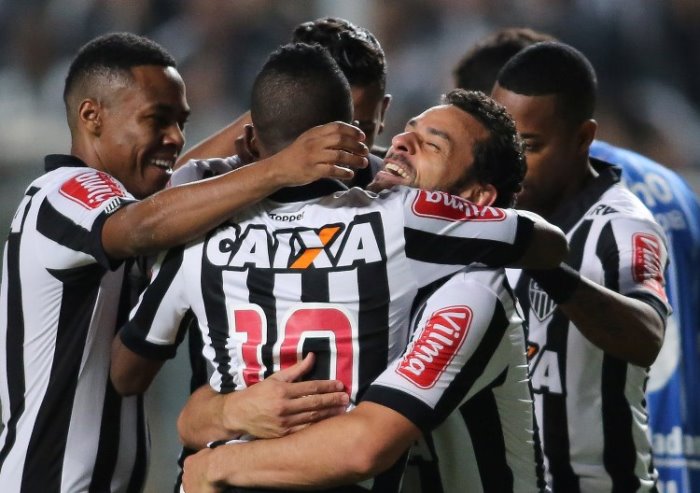 Sport Recife were also fortunate to get a 2-0 win against Flamengo, a game in which they conceded some good chances while creating very few. A goalkeeping error contributed to the first goal, before Sport doubled their lead late on. Flamengo squandered some good chances throughout – generating 1.65 xG in the process, with Infogol calculating that they would have avoided defeat 85% of the time.
In comfortably the two highest scoring matches of GW5, Corinthians beat Vasco da Gama 5-2 and Gremio got three points against Chapecoense, coming away with a 6-3 win. Although these results may suggest very dominant and comfortable wins, both teams that were victorious were very fortunate, as the home team on both occasions created the better chances and more xG.
Fortunate: Gremio attack vs Chapecoense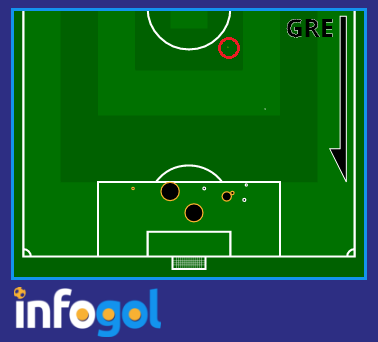 Gremio managed to hit the net six times against Chapecoense, though they were very fortunate as they created very little. The lowest of probability chances (<1%) got the ball rolling for Gremio, as Michel scored from near the half-way line (highlighted in shot-map) – a sign of things to come. In the 90 minutes, they amounted just 1.2 xG and scored six, with Infogol calculating just a 0.1% chance of this occurring.
Chapecoense vs Gremio: percentage chance of scoring (x) from xG created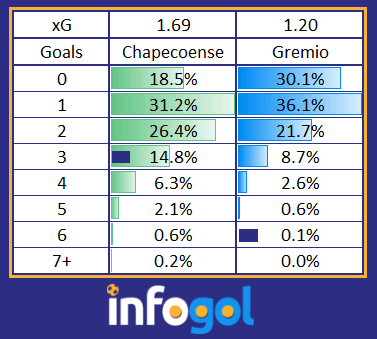 Corinthians scored five from just 1.11 xG, with Infogol calculating a 0.6% chance of this happening, emphasising how fortunate they were.
Vasco vs Corinthians: Percentage chance of scoring (x) from xG created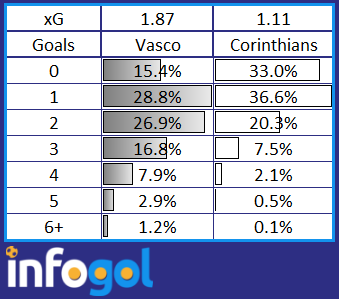 Vasco can count themselves as very unlucky, as they found themselves on the wrong end of a harsh looking score-line. They are the team to watch for GW6 after this performance, which again showed plenty of positives and promise for the season going forward.
GW6 Team to watch – Vasco da Gama
After another positive performance at home, and one in which they once again created a lot of chances, they have a good chance of getting back to winning ways in GW6. Luis Fabiano has been in great goal-scoring form for Vasco (4 in 5), and it would surprise if he got on the scoresheet again in their next match.
You can view all of the shot-maps and xG totals for every team in every game on the Infogol app > Download on Android or IOS.

Recent blog entries